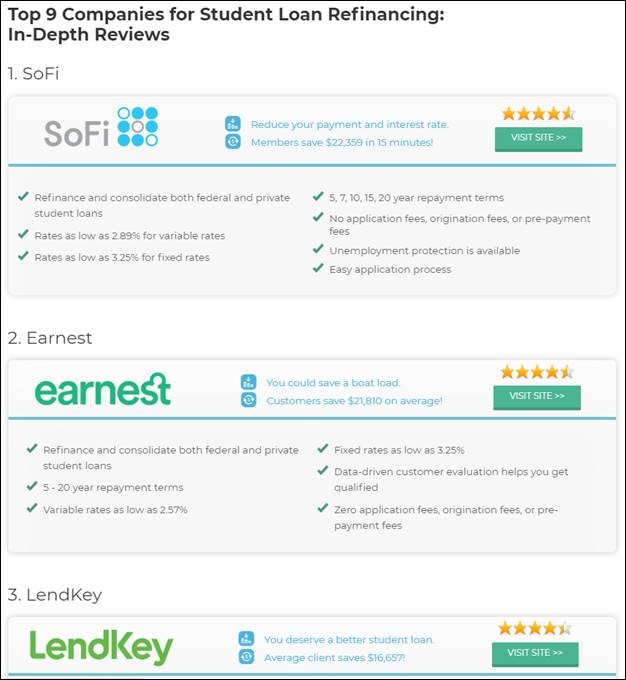 The operators of a website that compares student loans and other financial products have agreed to settle Federal Trade Commission allegations that they misled consumers to believe their website provided objective product information, when in fact they offered higher rankings and ratings to companies that paid for placement.
In an administrative complaint against Delaware-based LendEDU and its operators Nathaniel Matherson, Matthew Lenhard, and Alexander Coleman, the FTC also alleged the company touted fake positive reviews of its LendEDU.com website.
"LendEDU told consumers that its financial product rankings were based on objective and unbiased information about the quality of the product being offered, but in fact LendEDU sold its rankings to the highest bidder," said Andrew Smith, Director of the Bureau of Consumer Protection. "These misrepresentations undermine consumer trust, and we will hold lead generators like LendEDU accountable for their false promises of objectivity."
According to the FTC's complaint, the operators of LendEDU.com falsely claimed that the website provided "objective," "accurate," and "unbiased" information about consumer financial products, such as student loans, personal loans, and credit cards. Specifically, LendEDU misrepresented that the information on its website was not affected by compensation from advertisers.
In addition, the complaint alleges that LendEDU and its operators misrepresented that consumer reviews on its website and third-party websites reflected actual experiences of impartial consumers. In most instances, those reviews were written or made up by LendEDU employees, their family or friends, or other individuals with personal or professional relationships with LendEDU.
According to the FTC's complaint, reviews about LendEDU's website and customer service appear on third-party review platforms, including trustpilot.com, which allows users to select a star rating when reviewing a company. Of the 126 reviews on trustpilot.com, 90 percent were written or made up by LendEDU employees or their family, friends, or other associates, and all of these manufactured reviews provided five-star ratings for the company, according to the FTC.
The proposed settlement order would prohibit the company and its operators from making the same types of misrepresentations cited in the FTC's complaint. The proposed order also requires the company to pay $350,000.
#FTC #LendEDU #studentloans #deceptivemarketing #consumerprotection #fraud #fakeratings #trustpilot